MR. DAVID McKENNA, 6TH DAN I.T.F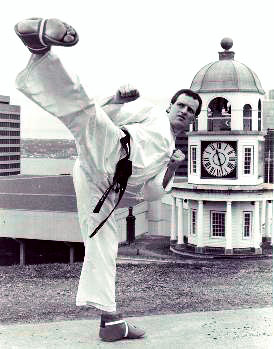 Mr. McKenna has been studying martial arts for the past 30 years. He has studied such arts as Judo, Karate, and Aikido, briefly, before deciding to concentrate on TaeKwon-Do. He has been involved in TaeKwon-Do since 1976. He is presently studying for his 7th Dan.

Mr. McKenna has competed quite extensively throughout the Maritimes, Canada, and the world. Some of his Championship and Grand Champion-ship wins include: the Kwang Kin Open Cup, 1978 and 1982, the Canadian Open Invitational, 1982, the Canadian Open Cup, 1982, and the 5th Canadian Invitational Taekwon-Do Championships, 1986. He also competed in the Taekwon-Do Association of Great Britain World Championships in 1991, 1993, and 1998. In 2002 he competed in the Savate world championships in Belgium.

Mr. McKenna's students have also competed quite extensively throughout Canada and the Maritimes. He has produced national, international, and world champions.
The McKenna TaeKwon-Do Centre is affiliated with the Canadian TaeKwon-Do Federation International (CTFI), a national body of the International TaeKwon-Do Federation (I.T.F.).